Google Ads. They talk about nothing else... and for good reason!
Google Ads is a robust platform that allows you to directly reach your prospects through the search engine they use daily. With Google Ads, you can create campaigns that show quick results and enjoy an automated system that helps you save precious time.
But you already know that because your colleagues talk to you about Google Ads (formerly Google Adwords), and you know that other marketing agencies are using it, right? You are convinced that it would be a significant investment but have no clue about taking the plunge?
If you want to open a Google Ads account in an easy way, this article is for you.
Google Ads: the safe bet
of search engine advertising
You have already heard of Google Ads, but you wonder if it is for you?
The platform provides a massive quantity of tools that allow you to launch efficient advertising campaigns tailored to your needs. Here is the non-exhaustive list of campaigns you can conduct with Google Ads:
Increase your ROI
Generate more traffic to your website
Attract more qualified leads
Sell more, both online and offline (drive to the store)
Create a real bond with your customers, and invite them to get in touch with your brand
Etc.
Want to know more about it? Browse our dedicated article: 3 reasons to open a Google Ads account, in which we give you more information about the benefits of Google Ads.
5 easy steps to set up your
Google Ads account
Whether you want to open an account for your online business or offline business, the process is the same. To open a Google Ads account, you will have to create an ad. You can always modify it afterwards. Here's a short tutorial to know how to sign in to a Google Ads account.
Step #1: Open Google Ads in your search engine
A Google account is required to create a Google Ads account. You don't have one? Create one! On the homepage, click on the "Start" button.
Step #2: Set up your account.
Add the following information: Google address, URL of your website. Then, click on "Continue".
Step #3: It's time to launch your

first Google Ads campaign

.
To launch your first Google Ads campaign, it's quite simple. Click on the button "New Campaign". Google will ask you to fill in the following information:
Your type of campaign: choose either

search network

(your text ads will be shown on Google search results),

display network

(in particular context to a particular audience), shopping, video, universal app...


Your main goal: sales, leads, website traffic, product and brand consideration, ad promotion...


Your campaign name: remind that a campaign is a collection of ad groups. You may have different campaigns on the same account, try to be as descriptive as possible.


The geographical area where your ad will be displayed. Choose a city, a region, a country or the whole world, depending on your distribution needs.


Your target language(s): choose the one(s) your customers may speak and the one(s) supported by your website.


Your bid strategy: target CPA, target ROAS, maximize clicks, maximize conversions, target search page location…


Your average daily budget: to figure it out, divide what you are normally spending each month by the number of days in each month (roughly 30,4).


Other settings are available such as link extension (very useful to show to your customers additional information).
Don't forget to save your brand new campaign!
Step #4:

Select your keywords
To select your keywords, we advise you to do preliminary research on the trends and the content of the campaign you want to highlight to find the most relevant keywords that match with your business. Don't forget that there are words that trigger your ads to appear.
The most effective way to find your keywords related to your business is with the Keyword Planner Tool available on Google Ads. You can then add them to your specific ad group. Once you have selected the right keywords, you will be able to bid; i.e. indicate the amount you are willing to pay per click.
You can also let Google Ads machine learning suggest the most relevant bid amount for your campaign.
It is not always easy to choose your bidding strategy: smart bidding, CPC bidding, CPV bidding… You may be lost in front of all those names and if you want to learn more about which strategy you should choose to reach your objectives, read more about bidding strategies.
Step #5:

Proceed to payment
There is no charge for opening an account. However, you will be asked to fill in your payment method to manage your campaign budget. Your payment will be debited as soon as your campaign gets activated.
Note: Google offers 100$ for the creation of your first campaign. How to benefit from it?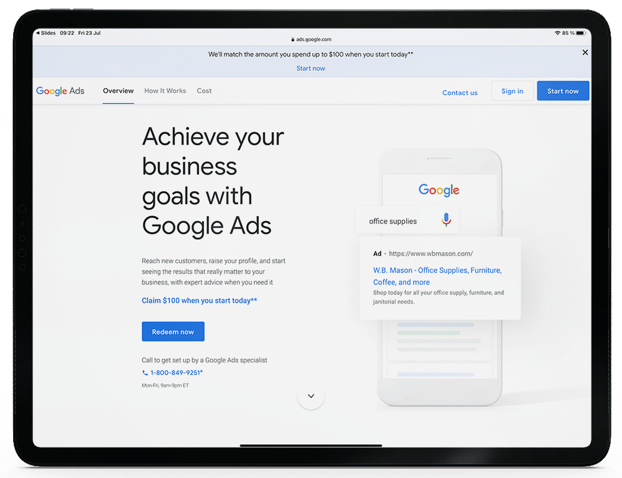 Option 1: contact Google support on 0805 540 801 and ask for your promotional code

Option 2: get your promotional code from Google Ads on the page dedicated to this purpose:

Start with a $100 credit

.
If you want to manage several accounts simultaneously, you can do so by creating a manager account. From this profile, you will manage your different movements quickly, and your various Google Ads accounts in a centralized way. The process is the same, you need to start the process for this page - Creation of a manager account.
Congratulations! Your account is now created and your ad broadcasted.
To access more advanced settings, open the settings and activate the expert mode. This mode will allow you, among other things, to have access to the Google Search, Google Shopping and Google Display interfaces. As you know now, Google Ads is an essential part of paid advertising and creating an account only takes a few minutes, so get started!
If you want to set up a paid advertising strategy, contact us!